If You Are Good at Something, Never Do It For Free
This post has been seen 199 times.
The Dark Knight is one of my most favorite movies (pardon my English). Not just because of the kick-ass action scenes or the storyline, but because of the Joker as played by Heath Ledger.
The Joker in the movie is hailed as one of the best on-screen villains of all time. But for me, it is not because of his powers, to be frank he had none, or the fear he portrayed in the movie, trust me, he was scary. But because of his business acumen.
This was a maniacal killer who was somehow able to convince some of the deadliest mob bosses in Gotham to pay for his services of securing their money by killing Batman. When asked why he had not killed Batman already, he replied with the classic quote.
"If you're good at something, never do it for free"


– The Joker (The Dark Knight)
Now, killing Batman is not easy per se. But suspend your thought for a moment. Let's focus on the quote again…
"If you're good at something, never do it for free"


– The Joker (The Dark Knight)
The truth is that you have probably heard this quote in different variants and forms before. And it sounds good on paper, but in reality it is very hard to execute.
Because most of the times, the things we are good at are things we find easy to do. And those things we find easy to do, we tend to find it hard to charge for.
Personally as someone who gets paid to speak at schools, MC events or seat on panels. I find it hard to reconcile the fact that this thing I find easy, that you could wake me up in the middle of the night and I would, that I deserve to be paid for. Over the years, I had to learn to not just ask for money but how to ask for money.
And this one thing is that fine line that separates successful entrepreneurs from unsuccessful entrepreneurs. The successful entrepreneurs are the ones that are not just good at their craft but are also good at charging for their craft.
Perhaps if I could modify the quote it would read
"If you're good at something, never do it for free become good at charging for it"
– The Joker Okechukwu Ofili
Sadly, most people focus on being good, but very few focus on being good at charging. That's why the best artist's or artisan's or not neccessarily the best paid, but rather the ones who know how to charge best are paid the most.
Learn the art of charging, just like the Joker, even if you end up burning all the money you get!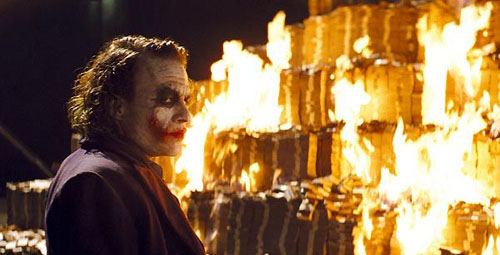 Comments
comments
Tagged